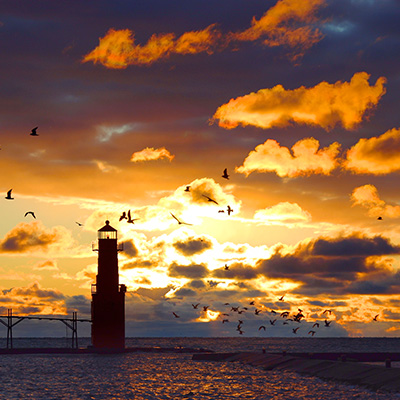 MAKING A POSITIVE IMPACT
Waterborne transportation is the most efficient method for moving bulk commodities as well as the transport of heavy machinery, steel, bagged and canned cargo, wind energy components and many other goods.
With more than 1,000 miles of Lake Michigan and Lake Superior shoreline, access to the Great Lakes-St. Lawrence Seaway System and the Mississippi River defining the majority of our western border, the ports of Wisconsin provide the state with many benefits and play an important role in waterborne transportation globally.
LONGSTANDING TRADITION
Moving goods by water in Wisconsin is a tradition that began in the late 1650s when settlers arrived at Lake Superior's Chequamegon Bay. French explorers and fur traders quickly recognized the vast potential of the state's waterways. Today, the goods shipped from Wisconsin's ports reach the world through the St. Lawrence Seaway and the Mississippi River.