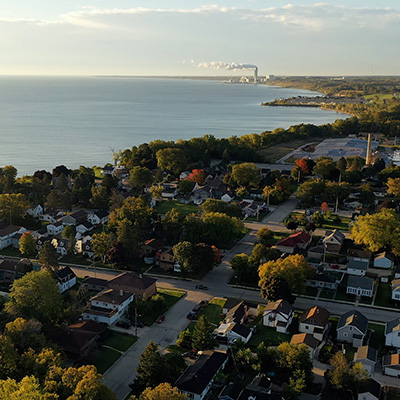 A DRIVER OF ECONOMIC GROWTH
Wisconsin's ports serve as centers of ship building, commercial fishing, ferrying services and the efficient transport of bulk goods. Our location, bordered on three sides by commercially navigable waterways, perfectly situates the state to benefit from water transportation, which is the most cost-efficient travel mode for moving bulk commodities such as agricultural products, petroleum, coal and construction materials, as well as foreign imports.
In fact, freight transport cost per ton-mile for waterborne modes of shipping are as much as 60% lower than rates for other types of overland shipments. Which is why each year, Wisconsin ports handle over 40 million tons of cargo valued at over $8 billion. This includes agricultural commodities destined for international markets, coal for power plants, iron ore and wood pulp, cement and road salt.
THE ECONOMIC IMPACT OF WISCONSIN'S PORTS
Wisconsin's ports are major economic hubs, generating thousands of family-supporting jobs while playing an increasingly important role in the state's tourism industry and adding greatly to the state's quality of life.
Wisconsin's ports create 9,550 family-supporting jobs throughout the state.
Wisconsin's ports pay nearly $462 million in wages and salaries each year.
Wisconsin's ports generate $1.6 billion in economic output for the state.